Secomea Remote Access to Industrial Equipment
Secomea's remote network access is a leading solution in the industry, deployed and used by major machine builders and system integrators worldwide. The solution consists of a small appliance at the factory (SiteManager) and a Windows (LinkManager) or Web (LinkManager Mobile) based client for an engineer or end-user. These components are tied together via a M2M communication server (GateManager) that is available as either a Secomea hosted service or a customer hosted software service.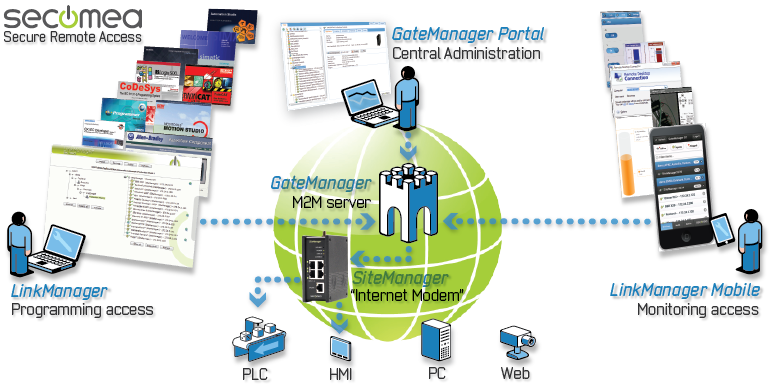 Benefits
Secure M2M communication solution for Machine Builders and System Integrators
Mobile access from your Laptop, Smartphone or Tablet (iPad, iPhone, Android etc.)
Instant remote access to your Ethernet, Serial and USB connected industrial equipment
Remote programming, monitoring, control or data-logging of PLCs etc. just as if you were on-site
Central management of sites and user access following the highest IT security standards
Easy and intuitive web based setup including templates for all major PLC and HMI products
No need for open ports in firewalls, fixed IP addresses, VPN or IT skills.
Applications
Remote machine control
Remote PLC access
Remote engineering support
Remote data logging
Remote network programming
Remote HMI monitoring
Remote system diagnostics
Feel free to contact us for further details or browse Secomea's products.
Additional Information