DESCRIPTION
JCore Clarity Cloud historian, visualizer, and notifications platform, charged per installed device per month. (Please Specify Options.)
Industrial Monitoring for the Cloud Era
The simplest way to connect your devices to the modern web.
Powerful Dashboards in Your Browser
Access powerful visualizations without installing any apps or desktop software. Clarity's simple user interface works right in your mobile or desktop web browser.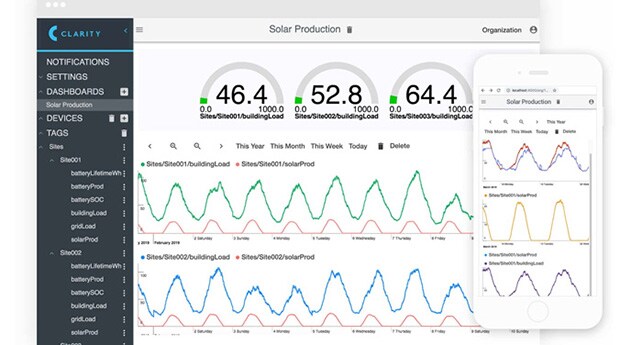 Effortless Navigation
Clarity makes it a snap to navigate huge data sets. Quickly zoom between months of data to seconds of data using simple touch gestures.

Smart Notifications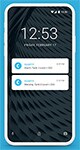 Don't waste time staring at gauges–set alarms. Clarity's notification system was designed for the unexpected. You configure the triggers and Clarity will take care of the rest.
Text Notifications
Lightning fast text notifications sent only to those in your organization who need to know.

Email Notifications
Email notifications link you directly to the items that need attention.
Troubleshooting Simplified
Quickly see each device's real time connection state and tag states with Clarity's device status view. The tag state table continuously shows how each tag flows from the device into Clarity. For more advanced communications troubleshooting, the connection status panel expands to show the device's raw communications traffic.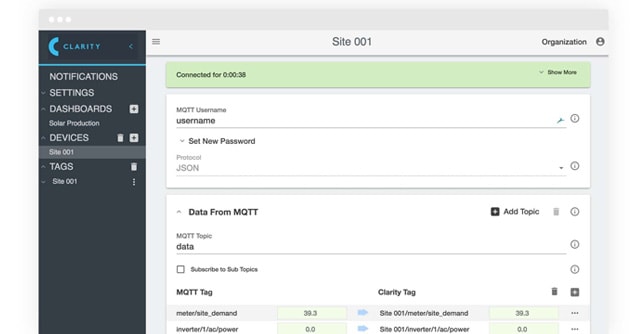 Edge Devices to the Cloud
Unlike most dashboarding software, Clarity provides a complete end-to-end solution for device communications, data storage, and notifications.
Dashboards
Easily build custom dashboards that update in real time and work in any modern web browser.

Smart Notifications
Clarity notifies you directly via SMS and email when alarms are triggered.

Clarity Cloud
Clarity uses modern cloud computing infrastructure to stream real time data all the way from edge devices to your browser. Our powerful built-in historian keeps a detailed record of how your data has changed.

Edge Devices
Devices communicate directly with Clarity using the MQTT protocol. Strong SSL encryption ensures the privacy and integrity of your communications.

Sensors & Controls
Connect sensors directly to your JCore Iron Pi device, or use a gateway that connects to your existing PLCs or control system.