Flexy Modular Remote Access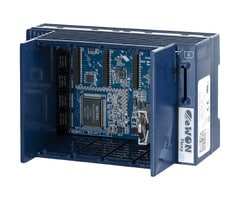 Flexy Modular Remote Access
Product ID
Flexy 200 Series
Availability

DESCRIPTION
Ewon Flexy 200 Series Remote Access M2M Router Base Unit, Built-In 4-Port 10/100 Ethernet Switch Or 1 x Ethernet Port / 1 x RS232/422/485 Serial Port, 4 Open Slots For Flexy WAN, Cellular, WiFi, Serial, etc., Extension Cards (Sold Separately). Note: Base Units Not Available with Built-in WAN Ports. Optional Extension Card Required for Remote Access.
Ewon Flexy 200 Series Industrial M2M Router and Data Gateway
The Ewon Flexy allows OEMs and system integrators to link remote devices in an environment where communication technologies are constantly changing and to communicate universally with the most varied field equipments.
With routing functions between LAN, WAN and serial sides, the Flexy 200 allows full remote access to devices located on the LAN side or on the serial side of the Flexy.
Features & Benefits
Keeping up with the evolution of communication technology: 2G, 3G, 4G, WiFi, CDMA, ADSL
Connect the device end regardless of the industrial protocol used: serial, MPI, Profibus, Ethernet and proprietary protocols
Protect your investment by preventing the need to reinvest in a completely new product
Reduce development time by using the embedded apps
Available Extension Cards
Type A Cards

Dual serial ports (FLA3301): Connect any RS232/485/422 devices for remote access applications or data acquisition using Ewon Flexy I/O servers library

Type B Cards

4G LTE For AT&T And T-Mobile (FLB3205): Flexy Cellular Extension Card, NA 4G LTE For AT&T And T-Mobile.

Type X Cards

Ethernet WAN (FLX3101): 1x WAN Ethernet access to connect your industrial assets to the Internet
WiFi (FLX3271): 802.11 b,g,n WiFi client for WAN access to Internet
I/O Card (FLX3401): Ewon Flexy ext. card I/Os (8DI, 4AI (0-10V,4-20mA), 2DO).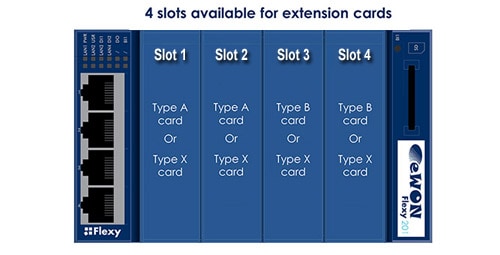 Additional Details