7940A 0101000 Copper Cable - 1000FT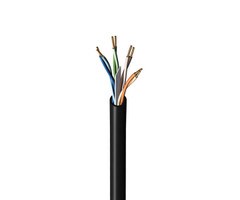 7940A 0101000 Copper Cable - 1000FT
Product ID
7940A 0101000
Availability

DESCRIPTION
Belden Category 6 DataTuff® (4) Twisted Pair Cable 23 AWG Bonded-Pairs solid bare copper conductors, polyolefin insulation, industrial grade sunlight- and oil-resistant Black PVC jacket, rip cord, 1000 foot reel.
DataTuff Category 5e Industrial Ethernet Cables
Maximize your uptime and performance with DataTuff Category 5e Industrial Ethernet cables from Belden. You can select from a wide range of options, most designed with Belden's patented Bonded-Pair technology.
Plus, these copper cables are built for reliability in harsh environments. To meet your needs, you choose the shielding, temperature rating and conductor options which match your application.
Additional Information