Industrial Networking Solutions (INS) Receives MOBOTIX 2019 Top Revenue Producer Award for the Americas
Richardson, TX – (January 29, 2020) INS is pleased to announce recognition as the Americas 2019 Top Revenue Producer from MOBOTIX.
Mike Finley, President of INS stated, "We are very honored to have won this award. Many of our industrial customers require a rugged video camera which can withstand harsh environments, MOBITIX supplies us a video solution meeting those requirements out of the box. In addition, the ability to choose from multiple lenses, high megapixel images and a thermal imaging option, make MOBOTIX a perfect fit for industrial vertical markets."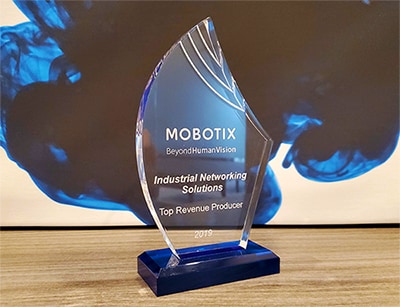 About MOBOTIX
We do not see ourselves as a classic manufacturer of cameras. In terms of IoT, our video systems are computers with lenses, working intelligently and with embedded storage capacities. MOBOTIX is distinctly characterized as a pioneering global company that is developing solutions based on the German way of engineering and approaching things as this is appreciated as being particularly innovative and of high quality. MOBOTIX stand apart with their uncompromisingly reliable, intelligent solutions that can be expanded virtually without limits and which ensure long-term investment security.
About INS
Industrial Networking Solutions (INS) distributes products, and provides industrial IT services and training designed specifically for the industrial marketplace. Founded in 1998, INS is a pioneer of the industrial Ethernet marketplace, and is one of the largest dedicated industrial networking distributors in the world. INS brings a control system engineering perspective to networking technology. In addition to stocking and selling a wide range of industrial Ethernet and M2M products, INS has an experienced engineering team which assists its customers with troubleshooting existing networks, as well as designing and implementing new industrial IT infrastructure.
###
INS Media Contact
INS Marketing
972-248-7466
marketing@industrialnetworking.com