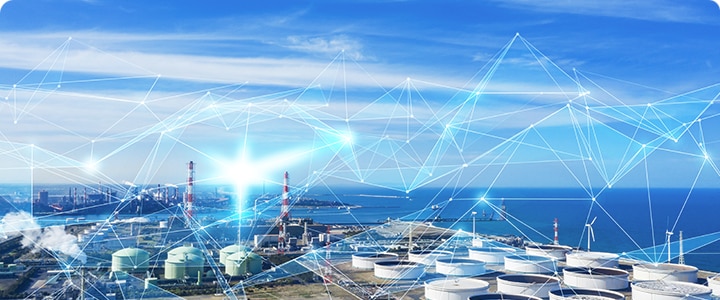 WIRELESS PRIVATE LTE NETWORKING
Wider Coverage + More Security + Better Mobility
What is Private LTE
Private LTE is a next-generation wireless data network utilizing cellular technology that you own and operate at your facility. It can be a cost-effective alternative to WIFI because it provides all the advanced technology benefits of a carrier-operated wireless network, including highly secure connectivity for large numbers of fixed and mobile endpoints throughout a large campus or industrial complex, but it's managed and controlled by the end-user, not the wireless carrier. Multiple campus Private LTE networks can be interconnected to create a complete enterprise connectivity solution.
How is This Possible?
Recent changes in the allocation of the public wireless spectrum have made it possible for organizations like yours to install a private wireless LTE network, controlled by you, and free of any recurring data charges paid to a carrier. Manufacturers that supply the technology that runs the nation's carrier LTE networks have responded to these developments by releasing fully functional, scaled-down versions of their LTE technology for private industry to use. Industrial Networking Solutions (INS) has partnered with Nokia to bring Private LTE to the industrial industry.
When Should You Choose Private LTE Network over WiFi?

Broader Coverage
If you need seamless wireless coverage over a large campus or facility, whether that be outdoor, indoor or some mix thereof, Private LTE has far greater range and better signal penetration into buildings and in areas with significant outdoor metal infrastructure than WIFI.

Numerous Endpoints
Private LTE can connect many devices and mobile workers to a wireless LAN with far fewer antennas than WIFI. LTE technology is designed to provide hundreds of concurrent endpoints with high bandwidth, low latency connectivity per "micro tower" antenna while WIFI can only reliably handle a few dozen clients per access point, with higher latency and lower bandwidth.

Mobile Endpoints
If you have mobile assets and people "on the move", private LTE will outperform WIFI significantly. LTE was designed to seamlessly process the hand-over of multiple fast-moving clients, between "micro tower" antennas without data loss.

Security
Are you concerned about hacking or eavesdropping on a WIFI network? With Private LTE, you provision and distribute private SIM cards for end devices connecting to your network. No SIM card? No connection.
What is Included in a Private LTE System?
Nokia's Private LTE Network infrastructure includes a dedicated LTE core server installed at the customer facility (Nokia Digital Automation Cloud) with associated micro-towers to provide the wireless coverage of the site. End devices are supplied with private SIM cards to allow access to the Private LTE network. For customer devices and area networks with an Ethernet or serial port, SIM-enabled LTE gateways can be used to provide the LTE network connection. A cloud-based management system allows the customer to monitor and manage their Private LTE system from anywhere and create links between distinct enterprise Private LTE networks.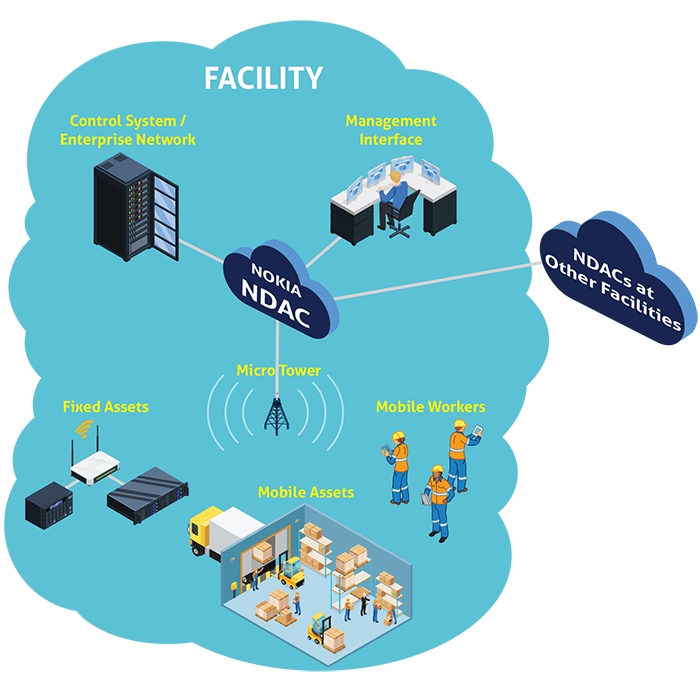 INS Can Provide a Private LTE System to Meet Your Business Needs
INS has teamed with Nokia to provide their market-leading private LTE network infrastructure and endpoint connectivity to the industrial marketplace. Nokia certified INS engineers can perform site surveys to determine the suitability and scope of a Private LTE system, then install the network, train customer personnel to manage their new system, and provide on-going technical support.
Contact INS's highly experienced engineering team to discuss if a Private LTE Network will fit your business needs.
Additional Resources