Belden Industrial Network Certification Program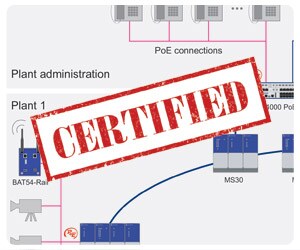 What is this program?
The Belden Industrial Network Certification program provides customers with certified industrial Ethernet network infrastructures that support their real-time control and information needs.
The certification assures the network:
was designed, installed and tested by well-trained, tested and authorized program partners
meets Belden's industrial standards and uses appropriate Belden, Hirschmann, Tofino, GarrettCom and Lumberg industrial products
Every network design and post-installation test is reviewed and approved by Belden's own experts.
What are the benefits?
Customers - End users get the very best end-to-end network products, design, installation, test, service and support from Belden and their partners. Further, they get a network that can grow and be upgraded easily using the same expertise.
Integrators - Gain training on how to apply best-practices and Belden standards, increased value of their solutions using Belden's Design and Installation consultation, and the ability to promote the value of the program and Belden's program logo. They also gain highly successful customers with strong loyalty and repeat business.
Belden - Extends their successful network of partners, and customers that are successfully applying and using Belden products.